Thrifty Window Tips
For Beautiful Window Coverings
Window coverings can be expensive, but with these thrifty window tips you can stop procrastinating and get those windows covered.
Before you start trying to buy or make curtains you need to know what size your windows are.
Start by measuring -
Length and width inside the window frame.

Length and width outside the window frame.

6"above the top of the window to the floor (if your curtains will touch the floor).
These measurements can be used for curtains, drapes or blinds.
Curtain rods are generally hung 6" above a window frame and extend 2"-3" on each side of the window . The length of your panels will depend on the length you want your curtains. Measure to the length you want your curtains
Since curtains are usually fuller - not just flat against the window, panels must be double the width of your windows. This allows the gathering on the rod.
---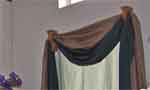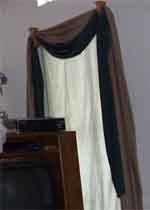 Window Tip #1 - No Sew Window Coverings.
In these pictures a piece of raw (non-sewn) fabric was draped through the round curtain rod holders. This technique is simple and allows you to add any color effect you want. The window can be covered with inexpensive blinds and this technique dresses it up with very little effort or cost.

---
Window Tip #2 - Using Sheer Fabric.
With sheer fabrics you can twist two or three colors together and then drape them around the curtain rod. Or use sheer curtains alone for a bright, airy look. Sheer fabric offers a thrifty window covering idea with a lot of versatility.
---
Window Tip #3 - More Inexpensive Window Covering Ideas.
You may have seen windows covered with bed sheets that looked tacky or at best - temporary. However when done properly sheets can offer an easy, inexpensive option to window coverings. Sheets already have a casing sewn in one end allowing you to just slide the curtain rod right in. The other bonus of using sheets is they now come in so many colors and styles. In a bedroom they offer the perfect option to matching up colors.
Tablecloths, cloth napkins or lace fabric are all good options for windows also.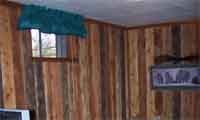 Valences are another less expensive way to add a touch of color to a window or room.
---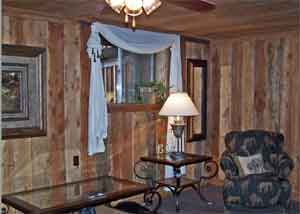 Window Tip #4 - Added Touches To Window Treatments.
Here is a way to dress up a plain white sheet. It is simply draped over a round curtain rod, hung lower on one side than the other, a knot tied in one side with a tie-back tied into the knot. A very simple, yet elegant idea.
---

Window Tip #5 - Tie-backs and knots
can dress up any curtain or drape. Here are a couple of photo examples.
---
Return from Window Tips to Thrifty Decorating

Return from Window Tips to Thrifty Living Tips