Thrifty Wedding Tips
To Make Your Big Day
Affordable
A thrifty wedding is what you need but your wedding day is such a special day in your life - the last thing you want is for anyone to think you cut corners.
But what if you can't afford that over-the-top wedding?
And you don't have thousands for a dream reception?
Or you didn't save for years to take a romantic honeymoon?
No need to call off the wedding - there are less expensive options for everything from the invitations to the honeymoon.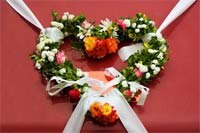 Many couples today are opting for a wedding theme instead of the traditional white dress/big church wedding.



A wedding in a park or at the beach is a less expensive choice or for even less cost, a wedding at a private home is a good option.


---
Here is a fabulous site for wedding invitations.

Just because you don't have a huge budget to spend on your wedding, doesn't mean it has to be a small, private affair. Visit www.Big-Wedding-Tiny-Budget.com for all kinds of budget wedding ideas.

What about that honeymoon? Read the tips on this site Kiss-honeymoon-and-wedding-ideas.com for some "Keep It Simple + Special" wedding and honeymoon ideas.


---
Return from Thrifty Weddings to Thrifty Living Tips