April Snow In Colorado
We ended our week with an April Snow Storm. Sometimes the weather throws you a curve ball and snow in April is on of those times.
I have lived in Colorado for over 40 years so you'd think I would be used to the unpredictable weather - especially in Spring - but it seems to always take me by surprise. What's even more surprising is the forecast for early this week is temps in the 70's! With all this snow and those warm temps, we can look forward to a green Spring.
So what do we do here in Colorado when the snow is coming down? We light the fireplace, put on a pot of soup to sip on all day, and curl up with a good book. The snow has to stop falling before it does any good at all to start removing it. Patience is the name of the game.
On to the pictures and don't miss the link at the bottom of the page for delicious, thrifty potatoe soup.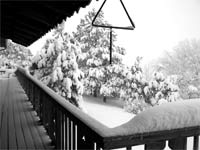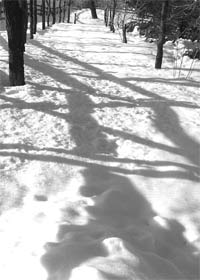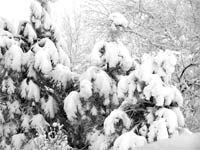 These little bluebirds were trying to find someplace out of the snow - and they were cold. So they huddled together on a small ledge on the side of our house.
The picture on the right shows a couple of them got carried away and were perched right on top of the others!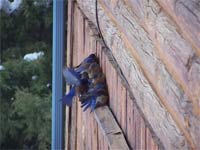 ---
Here is a delicious and thrifty potatoe soup recipe. Enjoy!!
---
Return from April Snow to Thrifty Stories

Return from April Snow to Thrifty Living Tips